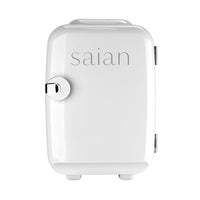 Esty Fridge
$76.00
Esty Fridge
I am getting used to having my tools close by instead in another room! So nice to have this. And I use it everyday, Now I would like one just a little bigger for little bottles etc.
Love it
Love this sleek mini fridge for storing facial add ons. Plenty of room and looks great in my studio!
My travel buddy
This cute Esty fridge is definitely a must have. It comes with a charger for the car, so you can keep your fridge hot or cold depending on your needs. This is so convenient when you have a travel. I love my Esty Fridge!
The perfect skincare fridge!
This item screams SPOILED. I'm in love with this mini fridge. It's so wonderful to get your skincare in the morning and it's chilled. You have no bags under your eyes and your skin feels great! If you have larger tubes or bottles you can take out the shelf and the pocket on the door holds my under eye patches. My jade roller is cold and feels wonderful when I message my face. I'm officially spoiled! Thank You Saian!!!!