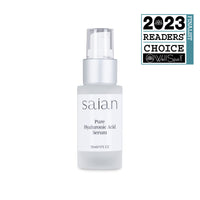 Pure Hyaluronic Acid Serum
$100.00
Best Hyaluronic!
Love this Hyaluronic Serum, I use it daily and have gifted it to many whom have come back to report they love it as well.
Better product in the pump vs the ampoule. Consistency seems better.
Amazing product
This is a very impactful product. I immediately saw an improvement in my skin texture after making the switch. You also don't need a full pump for your face.
Hyaluronic
Saian always delivers the best!!!