Type: Moisturizer
Sku: 859538008169
Currently there are
people are currently looking at this product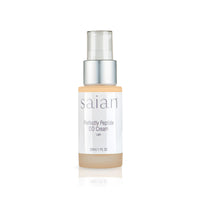 Perfectly Peptide DD Cream
- Light
$40.00
Love love
Just got it in and I put it on and it was amazing! I forgot I had it on and my skin just looked so good and no breakouts.
Shipping issue
I love the Perfectly Peptide DS Cream. The first shipment I received wasn't my order. I called to let them know they shipped it out.
DD cream
I like it it's very light
Perfect Fit
This product is doing very well in my retail area. Clients seems to like the creamy texture and love how easy it is to use. I use it on myself most days and think the coverage is light but I am still able to blend and even out my skin tone. It also hydrates my skin yet I am not shiny or to oily
Perfect/ light weight
If you are looking for a product that has the most amazing ingredients and has sheer tinted coverage, this is the product for you! This DD cream has SIX PEPTIDES + HYALURONIC!!! This is the perfect product for my everyday skincare routine. not only do I get the full benefits form the ingredients, but I also get coverage! just perfect!